Banderas Bay Information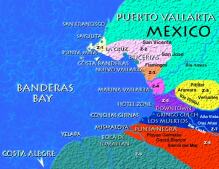 By Marla Hoover
Puerto Vallarta is actually several destinations in one. On the one hand there is the cobblestoned village and its houses with sloping tiled roofs, where one finds typical restaurants and shops that sell the outstanding handicrafts of Mexico
On the other hand there are several hotel areas, with modern infrastructure, all public services, discotheques and golf courses. Nuevo Vallarta is a recently built tourist complex, while MarinaVallarta, designed for seafarers, which has hotels, condominiums and shopping centers. Additionally there is an isolated area north and south of the town with tropical vegetation and no crowds.
Situated on the west coast of Mexico, south of the Baja California peninsula, on Banderas Bay and known as the second largest bay in the world, some 25 miles from tip to tip and offering more than 34 miles of incomparable coastline. Banderas Bay, has the seashores of the Mexican states of Jalisco and Nayarit, and is settle on the same latitude as the Hawaiian Islands, having the benefits of a similar atmospheric conditions. The bay, with it's mountainous backdrop forms a natural protection that enables you to enjoy all marine sports.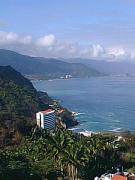 While tropical, Puerto Vallarta normally enjoys 322 days of sunshine annually with an average temperature of 80 degrees F. The rainy season, when we often receive periodic downpours, is June/July to September/October. These rains usually only last an hour or two and come in the afternoon, otherwise the sun is always shinning. This period of time tends to be humid as well. The flora and fauna includes tropical jungles, rubber trees, palms, bananas trees with numerous iguanas, tropical birds including parrots.
Puerto Vallarta coastline has being developing new beach front luxurious developments, and the government has set strict rules conserving the ecological environment of the region order to preserve its beauty and tropical surroundings. For practical division we can divide Banderas bay in 4 different main areas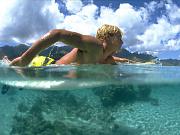 1-"Old town" Puerto Vallarta or "El Centro". While each area offers it's own features, When you stay in the "old town" of Puerto Vallarta one is pleasantly impressed with the native ways and customs, which might be missed to a great degree in other areas. "Old town" also offers much more in the way of traditional Mexican amenities.
2-, Marina Vallarta and Nuevo (new) Vallarta are both relatively new areas, which offer plush hotels, restaurants, and night-clubs. These tend to be more expensive than the less than plush, but adequate hotels, restaurants and night-life of "Old town".
3- At the notrh part of the bay you find La Cruz de Huanacaxtle -Punta Mita corridor with scattered and peaceful luxurious developments surrounded by tropical jungles, sandy beaches and calm ocean waters.

4- At the south part of the bay you find Conchas Chinas - Mismaloya corridor with hotels and apartments siding the craggy coastlines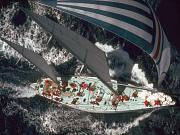 AIRPORT/AIRLINES: Puerto Vallarta has a modern international Aiport that handles thousands of visitors each year. There are many coffee shops, restaurants, liquor stores and duty free shops, as well as other services.There is no problems with baggage or customs on either our arrival or departures. Puerto Vallarta airport has numerous international airlines serving it daily such as Continental, Delta, Alaska Air Lines, Air Canada, American West ,Mexicana Air Lines and Aeromexico with direct flights to numerous countries and cities in Canada and the United States.